59 Views
October 11, 2017
BoE Governor Carney Expects UK Inflation to Peak in October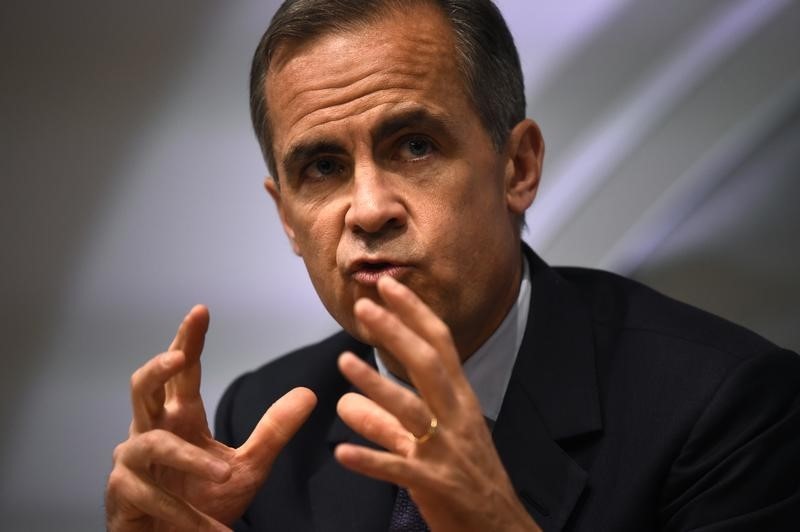 © Reuters. Bank of England chief expects inflation to exceed 3%
Investing.com – Bank of England governor Mark Carney forecast that UK annual inflation would peak as early as October in testimony delivered to the country's Treasury Select Committee on Tuesday.
Inflation will exceed 3%
After a release earlier on Tuesday showed that annual inflation in the UK rose to 3.0% in September, its highest level since March 2012, Carney admitted that he would "more likely than not" have to write a letter to chancellor Philip Hammond to explain why inflation is more than 1% above the 2% target.
"Inflation will peak in (or) around the October/November," Carney testified.
He explained that the "sole reason" inflation has increased is because of the depreciation of sterling and noted that the Monetary Policy Committee continued to expect inflation to move slightly higher based on that effect.
Carney defended the higher-than-target levels of inflation, calling it a "trade off" in order to support the economy and employment.
Rate hike will not be done solely as safety measure
He also dismissed the idea of raising interest rates for the sole reason of preparing for a future economic crisis.
"Building a war chest in interest rate terms for a potential future shock, isn't staying on point in terms of the inflation target, nor is it appropriate or necessary given that policy can move quite nimbly if required," the BoE governor explained.
Markets widely expect the BoE to hike rates at their next policy decision on November 2.
However, the BoE's new deputy governor Dave Ramsden said earlier on Tuesday that he was not part of the majority of policymakers who suggested last month that a rate hike was likely to be needed "in the coming months" because he saw little sign of inflation pressure building in Britain's labor market.
Brexit agreement will include transition period
Responding to questions surrounding Brexit negotiations, Carney said that he expects that the UK and European Union will reach an agreement that includes a transitionary period as it "is in everyone's interest".
He did admit that the BoE has made preparations in the event that there would be a "hard exit" without a transition period, because the monetary authority was asked to do so.
Carney stated that the BoE's evaluation of possible worse-case scenarios has looked at tools to mitigate those risks and added that British banks are sufficiently capitalized in order to handle a negative outcome.
He also noted that a "full, comprehensive, ambitious agreement" between the UK and EU could result in the BoE increasing growth forecasts.
Carney further noted that British firms have become "less confident about a smooth transition" but that, to the contrary, "household expectations are broadly consistent with a smooth outcome to a future arrangement".
As the testimony progressed, the pound moved towards session lows. At 7:44AM ET (11:44GMT), GBP/USD traded at 1.3200 from around 1.3247 ahead of the remarks, EUR/GBP was at 0.8907 from 0.8873 earlier and GBP/JPY changed hands at 148.10, compared to 148.61 previously.
Meanwhile, European stock markets traded mostly higher. London's FTSE 100 gained 0.23%, the benchmark Euro Stoxx 50 rose 0.14%, France's CAC 40 inched up 0.01%, while Germany's DAX advanced 0.07%.
sponsoredArticle = 'div-gpt-ad-1466339494851-0';